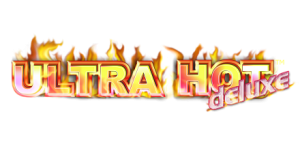 If you want to make a jump into the past, while keeping one of your feet strongly anchored to the present, you must play Ultra Hot Deluxe, a 3-reel, 5-payline video slot developed by Novomatic, where old and new wisely mix together to provide an all revamped new version of the most classic fruit slot machine. The graphics are neat and clear, even though I feel they probably miss the touch of an artist. The game includes a total of 8 symbols, with juicy fruit symbols of plums, oranges, lemons and cherries on one side and Double-Seven, Double-Star, Double-Bar and the X symbols on the other. A taste of modernity comes from the animation after winning combinations when symbols literally catch fire.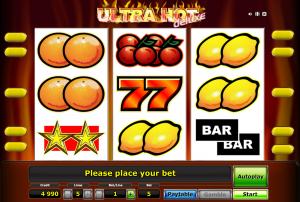 As the traditional old slot machine this game has not many features. There are no wild symbols, no scatter symbols, no bonus games. The game is all about a trip into the nostalgia of the old one arm bandit, thus your only goal is to match three symbols on one of the 5 paylines, exactly like it happened in the very original version. The only concession to modernity during the game-play is given by the "Gamble" feature, in which you have to guess the colour of a card dealt from a deck of classic poker cards to double your winnings.
Playing the game is quite easy. Firstly you have to decide how many credits you would like to play with and virtually insert the amount into the machine. Then you can set the number of paylines (1-5) and the amount of your bet per payline (1-400) by clicking the respective "+ / -" buttons.

If you need a funny, refreshing, restoring moment of relax while playing games, Happy Fruits slots will bring you them all.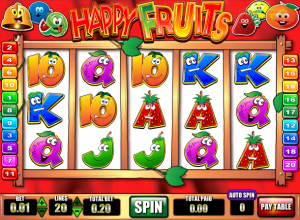 Happy Fruits slot game developed by Mazooma Interactive Games of the Novomatic group is an online slot game that can now even be played on your latest smartphone and other mobile devices with an array of beautiful features, fantastic bonus games like wild stars, the crazy streak bonus, the super 7's feature and a splat bonus. This 5 reels and 20-payline fruit slot is much more like a video slot than a traditional fruit slot that you may come across at a local pub.
The graphics does not particularly turn me on with the classic high cards that are fruit shaped and simple bonus symbols that trigger a host of other features. But the funny cartoon fruit characters certainly put me in a good mood while playing.
Keep an eye out for these types of poker player. If you spot them, make sure to keep a close note of their moves and even their username – they can be exploited for big wins!
Identifying certain categories of players is one step towards total domination of the poker board, and is something that the world famous players do all the time.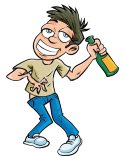 1. The drunk
This one is common both in the casinos and online. Most likely to be stumbling around, or making ludicrous bets when you are playing poker online, the drunk is someone to be approached with caution in case all of their wild betting does actually pay off (and I've seen this happen before!).
However, most of the time the drunk is a cash cow that is ready to be milked. The lack of inhibitions and increased confidence means that those drunk poker players often wake up the next morning with not just a hangover but a hole in their bank account with your name on it.
If you are a gambler then you surely agree with me on this one: the only thing that can top a Las Vegas vacation is another free Las Vegas vacation. I still remember back in the day, when Las Vegas casinos were offering around 5% of what you used to deposit back in comps in the form of tickets to very popular shows, free meals, rounds of golf, limo rides, plane tickets and you would never leave a gift shop without a full basket. Those were the days!
The good news is that you still get the freebies
From what I've noticed, things haven't changed a lot in terms of who gets "comped". Obviously, if you plan a trip to Las Vegas and have a strict budget of $1000 to play at the casino, then don't expect anything. However, if you are there to have fun for a week and come well prepared to spend let's say around $50,000, then do expect your share of freebies, rewards and comps. And, this has become a rule of thumb in all casinos across the country.